Primary Liaison and Enrichment
Thanks for all your help organising the various activities our children have enjoyed this year; cookery club, science lessons, netball coaching, art, G&T sessions, etc. It's much appreciated and builds a strong and productive link between our schools.
John Shannon HT Godwin Primary School
Enrichment Activities
Art
Our Art studio looked like a hospital 'Accident and Emergency Dept.' this week as 30 Godwin pupils were tutored by the Year 9 GCSE group creating plaster casts for their hands.
These were then painted with the most ghoulish designs; guaranteed to frighten everyone away!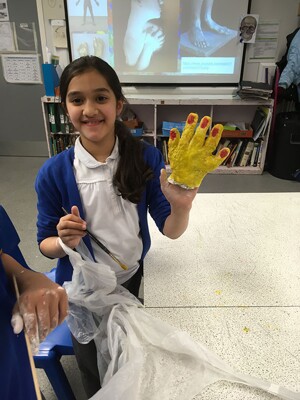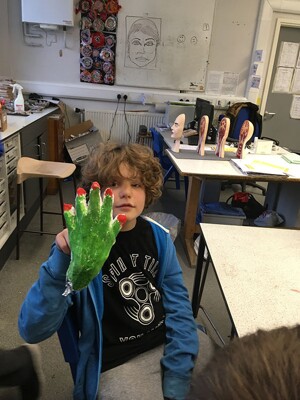 Music
Year 3 pupils were treated to an amazing Christmas Music Concert at FGCS where both the FGCS performers and the Godwin audience had the most enjoyable time.
Mini Olympics just minutes from the Olympic Stadium, Newham
Twenty seven Forest Gate Community School students continued the wonderful tradition of hosting an Olympic Sporting Event in Newham. The 'Mini', refers of course to the fact that the competitors were only aged 7 -11 years old.
Competitors came from a range of Newham Primary Schools including Gainsborough, Hallsville, Kaizen, Ravenscroft, Salisbury, Scott Wilkie, Sir John Heron, Tollgate to share this positive opportunity to compete in physically demanding activities.
Our mini athletes competed at a variety of different activities and races including throwing challenges, gymnastics balancing, golf and hockey skills.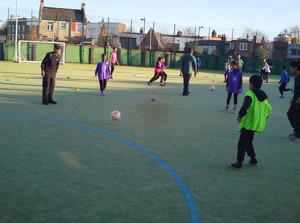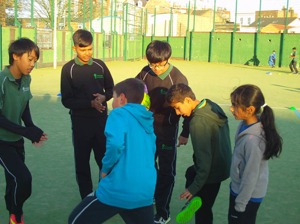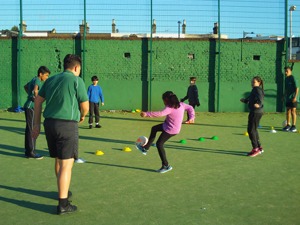 .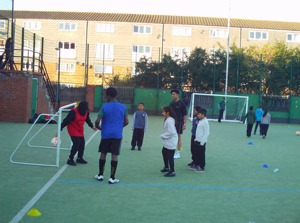 Football
Further PE activities took place in February when our Year 9 Sports leaders had a chance to use their enthusiasm, knowledge and skills in PE: Great communication skills, encouragement and support were evident on the astroturf when they engaged the Year 5 Junior school pupils in a variety of Football activities and skills.
Our dynamic sports leaders showed compassion and true leadership skills teaching exceptionally high level skills.
Food and Nutrition
This week we had 20 prospective bakers from Godwin school coming to Mr. Shapland's food room, to learn how to bake bread. The year 9 "student teachers" kept the visitors engaged and made sure they were able to make some great bread rolls. Everyone really enjoyed themselves as you can see from the photos. If you want to have a go at making bread at home try this recipe.
Recipe - take 400g bread flour, 1 sachet yeast, 1 teaspoon salt and mix all this with 250 ml warm water. Knead for 5 minutes then shape into 8 bread rolls and place them on a greased baking sheet. Cover over with oiled cling film and leave in a warm place for 1 hour. Bake for 15 minutes at 200C/gas mark 6, then enjoy!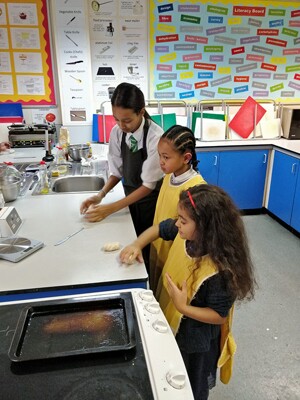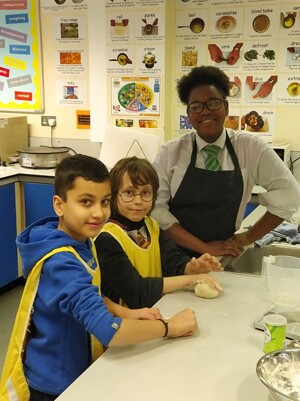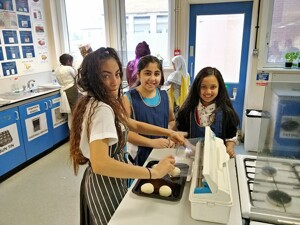 Media
Creating your very own super hero was made so very easy for our junior school peers in Media this term. Using a photo shot programme the young pupils were able to become their very own favourite super hero with the help and guidance from our own Year 9 students.
Science
Following a successful visit last year, FGCS once again opened its doors to Godwin primary school allowing students to investigate reversible reactions of substances in specialist science laboratories.
Lauren Brierley, Julie Burman and their team ensured over 100 pupils had two outstanding science experiences. Firstly, melting chocolate with the use of kettles, beakers, evaporating dishes and stirring rods. The pupils completed the experiment by returning the chocolate to its 'solid' state by pouring their melted chocolate into an ice cube tray, which was frozen. Secondly, a less tasty experiment was taught where salt solution was evaporated to leave a residue of salt. Students got to use Bunsen burners for the first time- a lot of fun was had by all!
Miss Saunders from Godwin emailed 'On behalf of pupils and staff at Godwin, I would like to say a big thank you for your warm welcome and support during our Science investigation yesterday. The children really enjoyed using the facilities and the whole experience was enjoyable and educational.'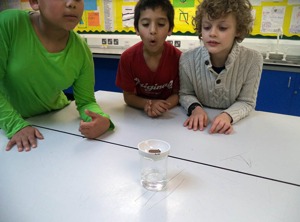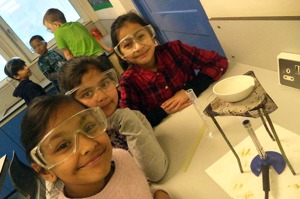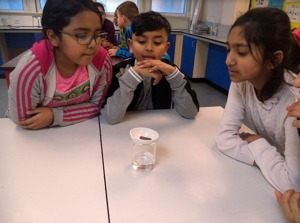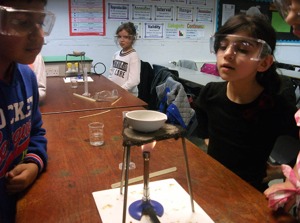 Drama
Once again our talented Year 11 drama students completed their 'Drama in Education' GCSE module in the most practical way; by teaching, coaching and inspiring young students from Godwin Primary School.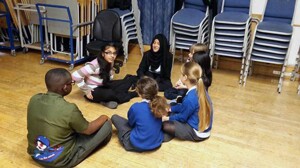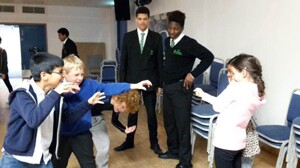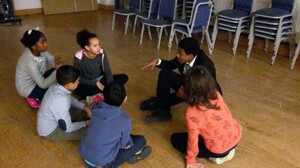 MFL
A small group of our year 9 Pupils visited Godwin Primary School for language enrichment activities with over 100 Year 4 pupils. Our head of faculty Valentine Ohakwe led a demonstration of AFL and entertained them with songs and music. Our students displayed a high level of initiative and maturity, such that can only further strengthen FGCS's link with Godwin Primary School.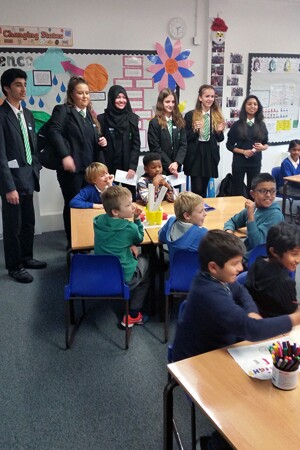 .