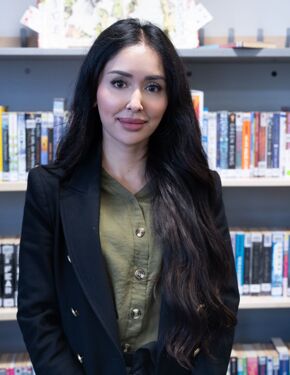 Rosie Noor
deputy headteacher, curriculum
Prior to becoming Assistant Headteacher, Rosie was the Head of Department for Statistics which has consistently been amongst the best performing GCSE subjects for our Year 11 pupils. Rosie has also led the Maths team at FGCS as a second in charge and worked alongside leads across the trust in creating the Maths and Statistics curriculum.
Rosie is the Assistant Headteacher who oversees the provision of our More Able Pupils at FGCS. We are accredited as a World Class School and have received the 'NACE' award for high-quality provision for more able learners. Rosie has deployed a wide range of strategies to achieve these excellent outcomes across the school. This has contributed to a sustained positive progress score for the school year on year.

Rosie is also our school's initial teacher training lead and oversees the provision of SCITT trainees and Early Career Teachers. She strongly feels that high quality teacher training should be at the heart of teaching and learning and leads on many training sessions for both trainees and mentors. Successful students who reach their full academic potential are a result of high quality teaching. Rosie strongly endorses excellence in provision for all; pupils, trainees, mentors and staff.